Publication Date: December 2, 2013

LightEye Editions Paperback; 396p

ISBN-10: 2917183349
A few months after Richard FitzUrse and his fellow knights murder  Thomas Becket in Canterbury Cathedral, Lord Robert and Lady FitzUrse are instructed by King Henry to make a penitential pilgrimage to the tomb  of Saint James the Greater in Spain in order to earn redemption for his  disgraced family.
William Beaumont has made a promise to his dead mother and younger  sister to go on a pilgrimage to save their souls. William is secretly in love with Alicia Bearham, niece of Lord Robert. He is overjoyed when he is asked to accompany the family and their servants on their  three-month pilgrimage.
They face many adversities, dangers, and an attempted murder on the  long and hazardous journey across England, France and Spain. Who is  trying to kill Sir Robert and Alicia? What does the gypsy woman they  meet in Paris mean when she predicts that Alicia and William are  destined to be soul mates, but only when the eleventh flaming star  returns to the skies and the water carrier rises over the horizon? One  fateful night, a shocking event changes their lives forever.
Buy the Book
Amazon UK Amazon US (eBook) Amazon US (Paperback) Book Depository Fishpond Waterstones
About the Author
Sylvia Nilsen, well known in the Camino world for her 'amaWalker  blog' is a South African freelance writer who has been published in  numerous local and international publications.
She has worked as a research agent and editor for a UK-based travel  guide publisher and produced several African city and country guides.
Sylvia has walked over 5,000 km of pilgrimage trails in Europe  including Paris to Spain, the Camino Frances from St Jean Pied de Port  and Roncesvalles to Santiago, from Lourdes to Pamplona, el Ferrol to  Santiago, Santiago to Finisterre and from Switzerland to Rome on the Via Francigena. She also walked from Durban to Cape Town as part of the  'Breaking Free' team in aid of abused women and children. Sylvia has  served as a volunteer hospitalero in Spain and is a Spanish accredited  hospitalero trainer having trained over 40 people to serve as volunteers in Spain. She was the Regional Co-ordinator for the Confraternity of St James in South Africa from 2003 to 2010.
In 2009 she started amaWalkers Camino (Pty) Ltd and takes small  groups of pilgrims on three weeks walks of the Camino Frances in Spain.
For more information on Sylvia Nilsen please visit her website.  You can also find her on Facebook.
Giveaway
a Rafflecopter giveaway

Virtual Book Tour Schedule
Monday, February 24 Review at Flashlight Commentary Spotlight & Giveaway at Historical Fiction Connection
Tuesday, February 25 Interview at Flashlight Commentary
Thursday, February 27 Spotlight & Giveaway at Kinx's Book Nook
Friday, February 28 Guest Post at A Bookish Libraria
Monday, March 3 Review at A Chick Who Reads Guest Post at Mina's Bookshelf
Tuesday, March 4 Review at Historical Fiction Obsession Review & Giveaway at Broken Teepee
Wednesday, March 5 Review at Oh, for the Hook of a Book
Thursday, March 6 Interview at Oh, for the Hook of a Book
Friday, March 7 Review at Reading the Ages
Monday, March 10 Review & Guest Post at Just One More Chapter
Tuesday, March 11 Review at The Most Happy Reader
Wednesday, March 12 Review at Staircase Wit Spotlight & Giveaway at So Many Precious Books, So Little Time
Thursday, March 13 Review at Svetlana's Reads and Views
Friday, March 14 Interview at Layered Pages
Monday, March 17 Review at Book Nerd
Tuesday, March 18 Interview & Giveaway at Let Them Read Books
Wednesday, March 19 Guest Post at Kelsey's Book Corner
Thursday, March 20 Review at From L.A. to LA
Friday, March 21 Spotlight at Passages to the Past
"Waiting On" Wednesday is a weekly event, hosted here, that spotlights upcoming releases that we're eagerly anticipating. Hosted by Breaking the Spine.
I know I haven't posted a Waiting on Wednesday in awhile, but I couldn't resist this one. If you are a Princess Bride fan, this is going to be a must read.
Andre the Giant: Life and Legend
By Box Brown
to be released on May 6, 2014
Andre Roussimoff is known as both the lovable giant in
The Princess Bride
and a heroic pro-wrestling figure. He was a normal guy who'd been dealt an extraordinary hand in life. At his peak, he weighed 500 pounds and stood nearly seven and a half feet tall. But the huge stature that made his fame also signed his death warrant.
Box Brown brings his great talents as a cartoonist and biographer to this phenomenal new graphic novel. Drawing from historical records about Andre's life as well as a wealth of anecdotes from his colleagues in the wrestling world, including Hulk Hogan, and his film co-stars (Billy Crystal, Robin Wright, Mandy Patinkin, etc), Brown has created in Andre the Giant, the first substantive biography of one of the twentieth century's most recognizable figures.
What are you waiting for?
Hidden
Written by  Loïc Dauvillier,  Marc Lizano (Illustrations), Greg Salsedo (Ink), Alexis Siegel (Translator)
To be published on April 1, 2014 by First Second
80 Pages
Graphic Novel – Historical
Received from the publisher in exchange for an honest review
Synopsis:

In this gentle, poetic young graphic novel, Dounia, a grandmother, tells her granddaughter the story even her son has never heard: how, as a young Jewish girl in Paris, she was hidden away from the Nazis by a series of neighbors and friends who risked their lives to keep her alive when her parents had been taken to concentration camps.

Hidden ends on a tender note, with Dounia and her mother rediscovering each other as World War II  ends . . . and a young girl in present-day France becoming closer to her grandmother, who can finally, after all those years, tell her story. With words by Loïc Dauvillier and art by Marc Lizano and Greg Salsedo, this picture book-style comic for young readers is a touching read.
Hidden is a beautifully written and illustrated book about a horrific time in our history. I felt extremely comfortable for my eight-year-old to read it as well. It is a perfect introduction for a young minds without scarring them and giving them nightmares.
However, as an adult, I felt all the pain and humiliation that was portrayed in Hidden. Dounia had an amazing journey during the war. So many people risked their lives to save hers. This book depicted her incredibly scary journey in fairly simplistic terms to make sure that a child like Dounia could feel her fear and uncertainty.
I loved that Dounia began her story with her granddaughter on her lap. It brings in a younger generation who have no idea what happened during the Holocaust. I really love multi-generational stories where the older generation tells their life story to the younger generation. There is so much wisdom, and sadness to their stories. It breaks your heart while at the same time, heals it.
I really can't wait to share this book with my daughter. I feel she's not quite ready for Diary of Anne Frank; but Hidden is a great way to introduce a very scary time in our history. I will give her a good sense of what happened so they will never forget; because the millions of people who were murdered CANNOT be forgotten.
Welcome to It's Monday! What Are You Reading! This is a great way to plan out your reading week and see what others are currently reading as well… you never know where that next "must read" book will come from! Hosted by Book Journey
Last Week:
This Week:
Floats the Dark Shadow by Yves Fey
Project Darcy by Jane Odiwe
A LOVE STORY LOST IN PRIDE & PREJUDICE… It is high summer when Ellie Bentley joins an archaeological dig at Jane Austen's childhood home. She's always had a talent for 'seeing' into the past and is not easily disturbed by her encounters with Mr Darcy's ghost at the house where she's staying. When Ellie travels into the past she discovers exactly what happened whilst Jane danced her way through the snowy winter of 1796. As Steventon Rectory and all its characters come to life, Ellie discovers the true love story lost in Pride and Prejudice – a tale which has its own consequences for her future destiny, changing her life beyond imagination.
Audiobook:
Changes by Jim Butcher
Long ago, Susan Rodriguez was Harry Dresden's lover-until she was attacked by his enemies, leaving her torn between
her own humanity and the bloodlust of the vampiric Red Court. Susan then disappeared to South America, where she could fight both her savage gift and those who cursed her with it.
Now Arianna Ortega, Duchess of the Red Court, has discovered a secret Susan has long kept, and she plans to use it-against Harry. To prevail this time, he may have no choice but to embrace the raging fury of his own untapped dark power. Because Harry's not fighting to save the world…
He's fighting to save his child.
What are you reading?
The Penny Thief
Written by Christophe Paul and translated by Jennifer Adcock
Published 2013
386 pages
Thriller
Received from the author in exchange for an honest review
Synopsis:

…and if someone was robbing a bank cent by cent without anyone realizing it…

Paris, Montmartre and La Defense, the ultra-modern business district with their skyscrapers. Henri Pichon is a quietly sharp programmer  whose daily routine is altered by a fortuitous accident from which will change the fate of everyone around. A different crime/detective: a story of love, hate, greed, murder…and a refreshing touch of black humor. How far are you willing to go for the money?
The Penny Thief is a wonderful depiction on what greed can do to a human being. Greed can absolutely destroy and that was shown extremely well throughout the book. The story flowed well and was full of fast-paced action and intrigue. The race to find the money will definitely make your skin crawl due to the wickedness of greed.
I felt that Henri was a great anti-hero; he's definitely not perfect. He begins as a victim but as the story unfolds his character becomes very complex; so complex it is very hard to view him as a hero. At times, I found him a little bit disturbing but likeable as well.  I really enjoyed the romantic side of Henri. His expressions of love were so creative. Mr. Paul wrote a very interesting character in Henri Pichon.
Jean-Phillippe Maillard is another interesting character who doesn't fit into one definitely archetype. I rather liked him; even with his greedy shortcomings. His love for his daughter, Tash, redeemed him. I'm not sure if he deserved his ending. It was incredibly harsh.
Of course, there are true villains in The Penny Thief. Pierre Gabriel turns into a complete ogre due to his greed. In the end, he would do anything to get all the pennies; no matter who got hurt. He is a prime example of what can happen when greed totally overwhelms you.
Besides the greed and betrayal, there are so aspects of true kindness in this story. Marcel, Etienne, Yvette and Valerie gave the story a sense of compassion that balanced out the awfulness of greed. Their characters gave the story more texture and emotion where you won't drown in the corruption of money.
The Penny Thief is full of intrigue and suspense. It is, also, very intelligent and will keep you engaged until the very end.
Welcome to It's Monday! What Are You Reading! This is a great way to plan out your reading week and see what others are currently reading as well… you never know where that next "must read" book will come from! Hosted by Book Journey.
Last Week:
Hidden: A Child's Story of the Holocaust by Loïc Dauvillier,  Marc Lizano (Illustrations), Greg Salsedo (Ink), Alexis Siegel (Translator)
This Week:
The Penny Thief by Christophe Paul, Jennifer Adcock (translator)
… and if someone was robbing a bank cent by cent without anyone realizing it …
PARIS, Montmartre and La Défense, the ultra-modern business district with their office skyscrapers.
Henri Pichon is a quietly sharp programmer whose daily routine is altered by a fortuitous accident from which will change the fate of everyone around him.
A different crime/detective novel: a story of love, hate, greed, murder … and a refreshing touch of black humor.
How far are you willing to go for the money? …
Floats the Dark Shadow: a mystery of Paris by Yves Fey
Young American painter Theodora Faraday struggles to become an artist in Belle Époque Paris. She's tasted the champagne of success, illustrating poems for the Revenants, a group of poets led by her adored cousin, Averill. When children she knows vanish mysteriously, Theo confronts Inspecteur Michel Devaux who suspects the Revenants are involved. Theo refuses to believe the killer could be a friend-could be the man she loves. Classic detection and occult revelation lead Michel and Theo through the dark underbelly of Paris, from catacombs to asylums, to the obscene ritual of a Black Mass. Following the maze of clues they discover the murderer believes he is the reincarnation of the most evil serial killer in the history of France-Gilles de Rais. Once Joan of Arc's lieutenant, after her death he plunged into an orgy of evil. The Church burned him at the stake for heresy, sorcery, and the depraved murder of hundreds of peasant children. Whether deranged mind or demonic passion incite him, the killer must be found before he strikes again.
Audiobook
Turn Coat by Jim Butcher (Dresden #11)
When it comes to the magical ruling body known as the White Council, Harry keeps his nose clean and his head down. For years, the Council has held a death mark over Harry's head. He's still thought of as a black sheep by some;and as a sacrificial lamb by others. But none regard him with more suspicion and disdain than Morgan, a veteran Warden with a grudge against anyone who bends the rules.
Like Harry.
So when Morgan turns up asking for help, Harry isn't exactly eager to leap into action. Morgan has been accused of treason against the White Council;and there's only one final punishment for that crime. he's on the run, he wants his name cleared, and he needs someone with a knack for backing the underdog.
Like Harry.
Now Harry must uncover a traitor within the Council, keep a less than agreeable Morgan under wraps, and avoid coming under scrutiny himself. And a single mistake may cost someone his head.
Like Harry…
What are you reading this week?
Do you have a princess in your life who loves to read? You do?! So do I! In fact I have two amazing daughters. I'm so blessed to have two incredibly smart, vivacious and beautiful girls. They love to read whether its by themselves or cuddled up next to me for story time. Do you have story time at your house? I can't tell you enough have important it is. I have been reading to my girls since the day they were born and I truly believe it has made them into the little readers they are today.
Today I'm going to recommend some amazing books for your little princess from little bitty to big girls. I hope you take the time and look at these wonderful books.
Ride along with the beautiful princess and the majestic white bear on a voyage in the snowy north. When the young princess inadvertently betrays the mysterious white bear, she must prove her loyalty and strength through a series of trying tasks, in order to regain her lost chance at happiness. Book with CD editions include story read by actress Miranda Richardson.
Ages 5 to 11 years
Retold By: Tanya Robyn  Batt
Illustrated By: Nicoletta Ceccoli
Narrated By: Miranda Richardson
I absolutely love this book. The illustrations are so beautiful and the story delivers a very strong message of being a strong and loyal young lady.
Every night, the king wishes his twelve beautiful daughters good night and locks the doors to their bedroom tight. But every morning, the princesses' shoes are worn through. Where do they go every night? The twelve famous sisters shimmer across the pages of this gorgeous retelling of the classic tale.
 Ages 8 and up
Retold By: Mary Hoffman
Illustrated By: Miss Clara
This book comes into two beautiful formats; a chapter book for your confident reader and hardcover with a story CD. You will be amazed at these books.
 Meet seven very strong and special princesses in this collection drawn from sources from around the world. Each faces challenges and trials, and each finds a way to triumph with bravery, compassion, ingenuity and a little bit of luck. Book with CD editions include stories read by Margaret Wolfson.
Smithsonian Magazine Notable Book for Children
 Ages 4 to 9 years
Retold By: Caitlín Matthews
Illustrated By: Olwyn Whelan
Narrated By: Margaret Wolfson
The best part of this book is that each story comes from a different country and culture. Your little girls will read and learn about princess that she has never known.
 Princess Cinnamon Stitch is a tomboy who has no interest in courtly life. She'd rather cartwheel through puddles and dance with alley cats. Can she show the king and queen that there's more to life than being pretty and good? Includes instructions for making your own kite.
Audio CD includes two versions of the story: one with page-turn chimes and one without.
Ages 3 to 8 years
Written By: Juliet Clare Bell
Illustrated By: Laura-Kate Chapman
Narrated By: Imelda Staunton
This book shows you that it is ok to be different, strong and independent. It gives a wonderful message to your little girls.
A Mathemagical Tale
    Practice your math skills while enjoying this quirky take on "The Princess and the Pea." The King and Queen and their three sons are on the search for a real princess, but it is only the Queen who knows the secret. After the story, there is an opportunity for readers to test their counting skills with fun number games. Book with CD edition includes story read by actress Juliet Stevenson.
Ages 4 to 9 years
Written By: Brenda Williams
Illustrated By: Sophie Fatus
Narrated By: Juliet Stevenson
I love this book. It is a wonderful way to learn numbers and counting.
I hope you enjoy these Barefoot recommendations for the little princess in you life!
The Book Blogger Hop was originally created by Jennifer from Crazy-For-Books in March 2010 and ended on December 31, 2012.
Luckily, Billy from The Coffee-Addicted Writer has relaunched the Book Blogger Hop. Each week the hop will start on Friday and end on Thursday. There will be a weekly prompt just like before. The hop's purpose will remain the same as it will give bloggers a chance to follow other blogs, learn about new books, befriend other bloggers, and receive new followers to your own blog.
Q: How do you handle unsolicited books that appear in your mailbox?  Do you add them to your queue?  Do you write to the sender and explain you  didn't ask for the book and are not sure when you will be able to read  and review the book?  Or do you simply not read the book at all? (submitted by Elizabeth)
A: I haven't received any unsolicited books. I usually will receive an email, asking me whether I would consider reading his/her book. I've never add anyone just send me a book without my consent. However, if I did receive an unsolicited book, I would definitely consider reading it.
The Feature & Follow is hosted by TWO hosts, Parajunkee of Parajunkee's View and Alison of Alison Can Read. Each host will have their own Feature Blog and this way it'll allow us to show off more new blogs!
Q: Find a "new to you blogger" and feature their button on your post this week. Tell us why this blogger stands out to you.
A: I really enjoy reading Historical Fiction Connection. I love historical fiction and this blog posts wonderful review.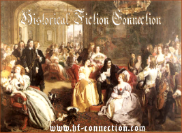 Divergent
Written by Veronica Roth
Published in 2011
487 pages
YA Dystopian Fiction
Purchased from Amazon for Books, Babes and Booze
Synopsis:

In Beatrice Prior's dystopian Chicago world, society is divided into five factions, each dedicated to the cultivation of a particular virtue – Candor (the honest), Abnegation (the selfless), Dauntless (the brave), Amity (the peaceful), and Erudite (the intelligent). On an appointed day of every year, all sixteen-year –olds must select the faction to which they will devote the rest of their lives. For Beatrice, the decision is between staying with her family and being who she really is – she can't have both. So she makes a choice that surprises everyone, including herself.

During a highly competitive initiation that follows, Beatrice renames herself Tris and struggles alongside her fellow initiates to live out the choice they have made. Together they must undergo extreme physical tests of endurance and intense psychological simulations, some with devastating consequences. As initiation transforms them all, Tris must determine who her friends really are – and where, exactly, a romance with a sometimes fascinating, sometimes exasperating boy fits into the life she's chosen. But Tris also has a secret, one she's kept hidden from everyone because she's been warned it can mean death. And as she discovers unrest and growing conflict that threaten to unravel her seemingly perfect society, Tris also learns that her secret might help her save the ones she loves…or it might destroy her.
Divergent is another Young Adult (YA) book based on dystopian themes. First of all, I'm not a fan of all the dystopian fiction that's out there. As mother, it is extremely difficult reading about kids hurting and even killing each other. I don't find it fun to read or entertaining.
I think I know why young people enjoy this type of fiction. It gives them some sense of the control and independence. They can overcome the control of the authority, win their independence and live life on their own terms. I wonder if the hovering parent encouraged this? I don't know. But it kind of disturbs me that such violence can be so popular. But I guess that is our current societal norm.
Now I will spend some time about the actual the book and it's character. I actually like Tris. I like how she overcomes her fears, or is able to control them. She has a strong sense of character; even if she doesn't think so. I, also, like Four. I thought he compliments Tris well. He is tough but has strong principles. He's interesting with some complexity. I like that.
The antagonists in Divergent are the typical villains. I thought they were pretty predictable. All they want is power and control. There is nothing unique about them.
Divergent is a really quick read for which I am thankful. Otherwise, I don't think I could have gotten through it. Overall, I liked the main characters but all of the brutality and cruelty toward young kids really got to me. I won't be reading any more of this series.
Between the Cracks
Written by Carmella Cattuti
Published on August 20, 2013 by Three Towers Press
324  pages
Historical Fiction
Received from HFVBT in exchange for an honest review
Join Angela Lanza as she experiences the tumultuous world of early  20th century Sicily and New York. Orphaned by the earthquake and  powerful eruption of Mr. Etna in 1908, Angela is raised in the strict  confines of an Italian convent. Through various twists of fate, she is  married to a young Italian man whom she barely knows, then together with her spouse, immigrates to the U.S. This novel is an invitation to  accompany the young Angela as she confronts the ephemeral nature of life on this planet and navigates the wide cultural gaps between pre-World  War II Italy and the booming prosperity of dynamic young America. Join  Angela Lanza as she traverses the tumultuous landscape of Sicily and New York.
Between the Cracks is a powerful story of ongoing tragedy but also one of continued hope. What I found so amazing is that this book is semi-biographical; taken from life the of the author's great-aunt. I can't imagine someone experiencing all of that tragedy and still remain sane. One would think by reading about tragedy, the story would be become incredibly depressing and tiresome. But not this book. It will keep you engaged and wanting to know about more about this family.
Angela and Franco make an interesting couple. First of all, their marriage was basically arranged. No love; but wanting to get away or find the right kind of person. Both had their motives for wanting to marry a complete stranger. I found that to be so intriguing and so different from what I know. They spent their entire marriage trying to get to know each other. There were so many times that I thought they were complete strangers to each other, even when they had been married for many years. But in the end, their bond was extremely strong.
The tragedy that Angela faced seems so incredible to me. Plus that she was able to overcome and survive just amazes me. I loved watching her grow from an insecure little girl to a strong, confident woman who takes care of her family. She ended being the backbone that everyone came to for help. She was their savior. Your heart will break as Angela's continues to search for her lost sister. Loss after loss, Angela was still able to endure and maintain her home.
Franco frustrated me at times; but he was a good man. He faced his own turmoil and did his best to deal with his life. The frustrating times for me were when kept he himself ignorant over his little sister's situation. He wouldn't interfere until it was too late. I found that to be so incredibly sad.
Between the Cracks is a very special book about a young woman's journey to overcome tragedy and loss and find a place in a new world. Please read and be prepared to be overwhelmed with all kinds of emotions.
About the Author
Carmela Cattuti started her writing career as a journalist for the  Somerville News in Boston, MA. After she finished her graduate work in  English Literature from Boston College she began to write creatively and taught a journal writing course at the Cambridge Center for Adult  Education As fate would have it, she felt compelled to write her great  aunt's story. "Between the Cracks" has gone through several incarnations and will now become a trilogy. This is the first installment. To  connect with Carmela email her [email protected] or leave a comment at  betweenthecracksnovel.blogspot.com.
For more information please visit Carmela's website. You can also connect with her on Facebook, Twitter, and Pinterest. Visit the Between the Cracks Facebook page.
Follow the Tour
Monday, February 10 Review at Oh, for the Hook of a Book Giveaway at Passages to the Past
Tuesday, February 11 Review at Kinx's Book Nook Spotlight & Giveaway at So Many Precious Books, So Little Time
Wednesday, February 12 Review at History & Women Guest Post & Giveaway at Historical Fiction Connection
Thursday, February 13 Guest Post at Broken Teepee
Friday, February 14 Review at Just One More Chapter